In a 'Screen Zone' configuration, Zoom Presenter instances are installed on one or more PCs, playing diverse media and interactive content in multiple screen zones within each Monitor, TV or Projector display device.
A 'Zone' is a rectangular area displaying media content covering a specified section of a display device. There are three zone types, 'Background', 'Floating' and 'Invisible'.
Background
To ensure the desktop does not peer-through, 'Background' zones are used to cover the display device's entire viewing area.


Floating
'Floating' zones are used to overlay media content above 'Background' zones, creating a 'Picture-in-Picture' configuration. Transparency between zones is not currently supported.


Invisible
'Invisible' zones have no viewable area and are best suited to playing background audio tracks.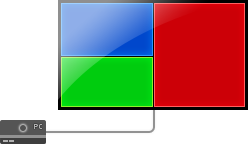 A screen zones configuration is comprised of a Windows PC connected to as many display devices as the operating system technically allows.
There is no specific Windows setup required.
If you have not done so during the installation process, use the bundled
Zoom Presenter INSTANCE manager
application to create Zoom Presenter instances (a running copy of Zoom Presenter) with a unique Screen name, TCP Port and configuration file.
Run the Zoom Presenter instances through one of the methods supported by the instance manager. For each Zoom Presenter instance running, there is an identifying icon in the task bar's tray area representing the zone instance. Hovering with the mouse cursor above each icon, displays a pop-up window with that instance's identifying information.
With one or more display devices wired to the Windows PC and Zoom Presenter installed on the same Windows PC, Zoom Commander is ready to begin setting up the screen zones.
For each screen zone, add a screen entry in Zoom Commander (see
adding screens
) to remotely identify and control the screen zone. Once setting the new screen entry to a 'Custom Position' layout, specify the Zone's display coordinates (see screenshot below).
Interactive positioning of a screen zone using the mouse cursor within the 'Layout Preview' pane is supported. The zone's drag motion accuracy depends on the 'Motion Ratio' value specified by right-clicking the 'Layout Preview' pane.
Lastly, the IP or Address of the Windows PC running Zoom Presenter and the port specified in Zoom Presenter INSTANCE manager must match each zone's screen entry. If the computer's IP number is not known, read the "IP Address" section of the
Troubleshooting guide
for assistance.
Example of three side by side 1920x1080 resolution display devices, each arranged in a unique zone layout: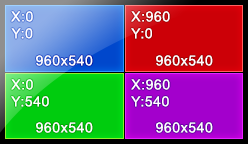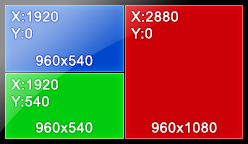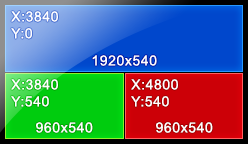 If a screen is unable to connect, please review the
Troubleshooting
section.